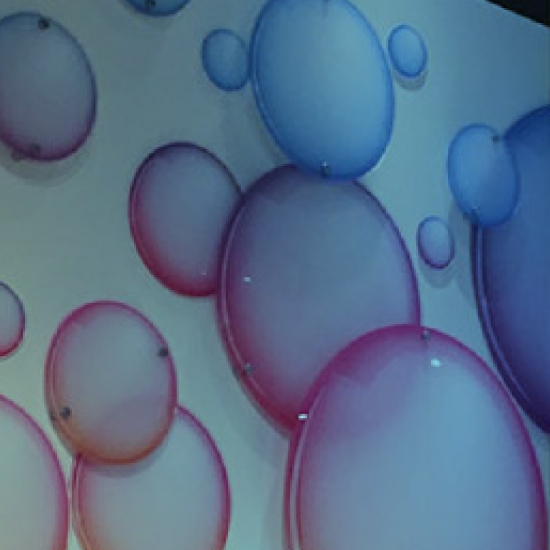 When it comes to custom signage for a company, there is plenty of opportunity to think big. Wide-format printing allows you to let your creativity run free—and bring ideas to life on a larger scale! With a wide variety of techniques, print materials and possibilities, your company isn't limited to a standard sign or directory outside your building.
Some of the materials that can be customized include:
Indoor/Outdoor Banners (Canvas, Greyback Anti-Curl, Ultima Pro®)
Displays (Foam-cor®, Gatorboard®, Plexiglas®/Acrylic, Sintra®/Komatex®, Styrene)
Wall Graphics (Phototex®, Pressure Sensitive Adhesive Vinyl)
Temporary Signs, Posters and Framed Prints (Poster Paper)
P.O.P. (Corrugated Paper, Coroplast, Dibond®, Foam-cor®, Gatorboard®, Plexiglas®/Acrylic, Sintra®/Komatex®, Styrene)
Unique Ways to Use Custom Signage
There are several benefits of adding custom wall graphics, signage and more to your space—including a permanent display of your unique designs and branding. And there are no limitations!
If your company needs a way to brighten up a dull room, share its story or even make a building easier to find, the experts at Metzgers can help! Read on for some of examples of successful custom signage. 
Restaurant Design
When customers walk into your restaurant, what do they expect? Delicious food, excellent customer service—and an atmosphere that fits the mood they're in!
Custom signage can help set the mood in your restaurant, fitting the environment you would like to create for your customers. Whether you want your location to be formal, laid-back or energetic and fun, custom signage that enhances the design of your restaurant can help give off the perfect vibe.
Not only can we help with a restaurant's interior design—but we've got you covered for much more. Metzgers can help with all company materials, from dinner menus to your food truck and delivery vehicles!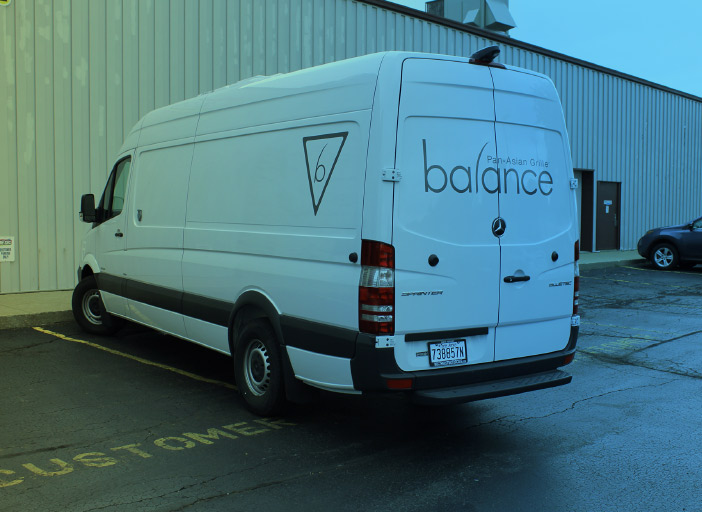 Company Waiting Rooms and Entrances
Every corporation has a story. How are you sharing yours?
Your waiting room and entrances offer a great opportunity to further connect with your audience. Adding a timeline, or other important historical events, to a lobby or doorway not only makes it visually appealing—but it also helps share the history of your brand with those who matter to you. If you want to make a positive first impression on a client, our wall graphics can do just that.
Your company can share its story and display its uniqueness with a vinyl print, similar to wallpaper, or even dimensional designs that utilize mounted Plexiglas.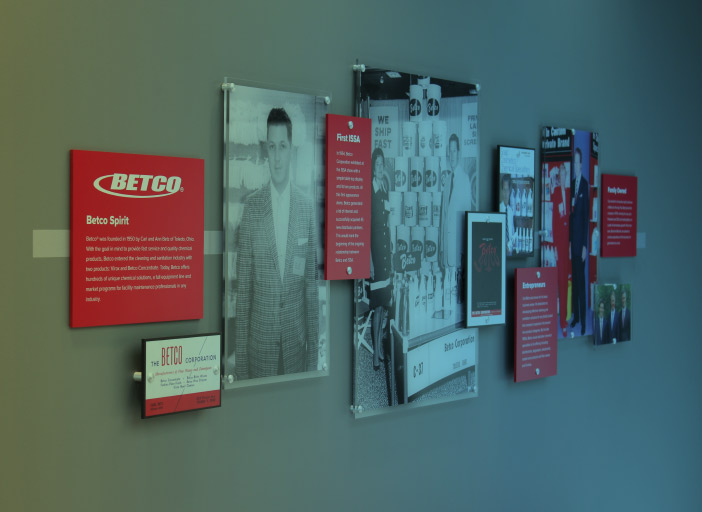 Setting Your Building Apart
Custom signage on any part of your building not only makes things easier for guests to understand, but also helps set your company apart from others.
What types of graphics and signage could you use to stand out among the rest? 
Indoor and Outdoor Signage
Indoor signage, displaying your company logo and/or tagline, are simple installations for your business. A high-quality sign can help brand your entire facility while adding some color and décor to any room. Indoor signage is typically mounted, providing customizable options for dimension, size and color.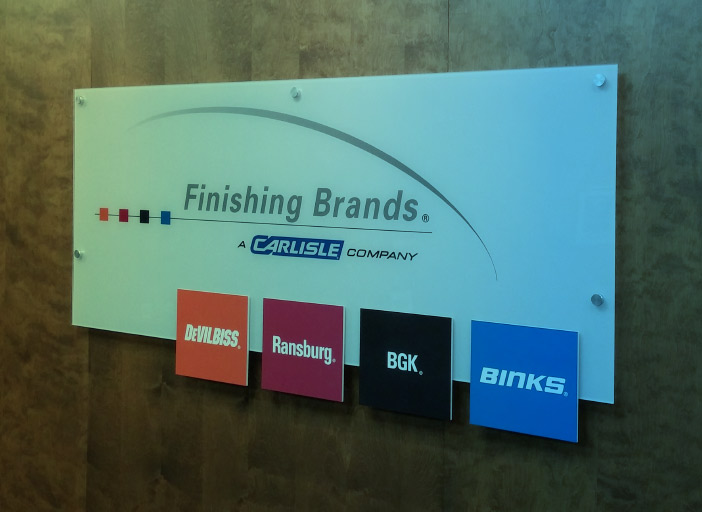 How are you directing visitors around your facility? Do they know where to park, and can they easily find the building they're looking for? Having an exterior sign and directory is vital—especially if your complex is large or made up of more than one branch or building.
And don't worry—the experts at Metzgers will help you choose the correct materials for your outdoor signage so that they can withstand any type of weather.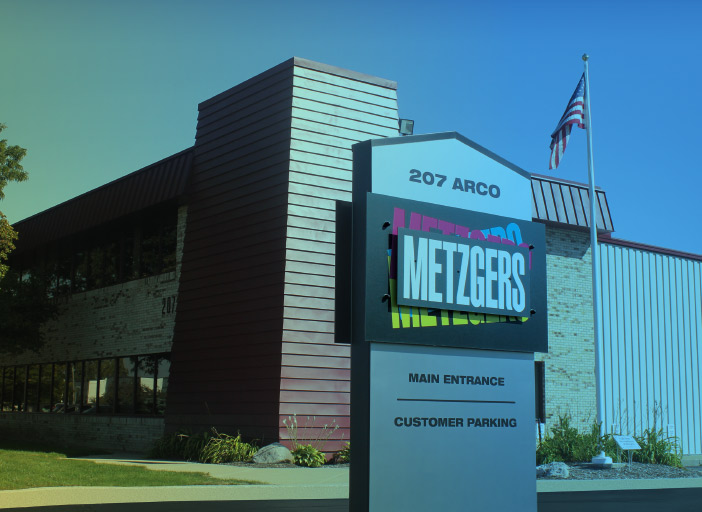 Glass, Door and Wall Graphics
Adding décor to your building doesn't always need a specific purpose! Our colorful graphics created with wide-format printing can add character to any dull room, helping guests who visit your location feel right at home.
When bringing clients, new students or even employees in to your conference room, the last thing you want to do is give them the wrong impression of your company with blank, white walls. Wall graphics of your logo and other branded designs make your company stand out amongst competitors—and leave a lasting impression on your guests.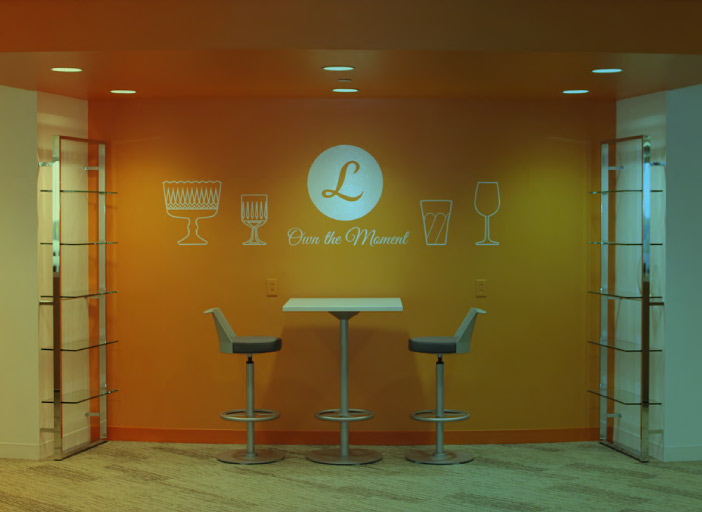 The same can be said for uninteresting doors and windows. You can add unique designs for guests to view on their way in—and their way out! Whether you run a small shop and simply want your brand name on a glass door, or you want to have fun with more of your interiors, the possibilities with these graphics are endless.
Custom Company Signage at Metzgers
No matter what branded visuals your company is interested in installing, Metzgers can help you get custom signage in the most cost-efficient way. Our experts work with you to choose the best layout, designs and materials—all while staying within your company budget.
Are you interested in adding some character to your business location(s) with signage, wall graphics, vehicle wraps and more? Contact a Metzgers account manager by calling 419.861.8611 today!